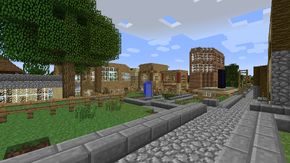 Overview
Edit
Located near Old Amos, Riverton was a scenic town on the border of plains and dense forest, thus dubbed the Forest City (by the creator/mayor mind you). Riverton was the first RoA settlement and the first RoA town to be established in Kova, and was the first to build an intracity highway.    
Residents
Edit
Jessejessy97- Assistant Mayor
Ad blocker interference detected!
Wikia is a free-to-use site that makes money from advertising. We have a modified experience for viewers using ad blockers

Wikia is not accessible if you've made further modifications. Remove the custom ad blocker rule(s) and the page will load as expected.