Atlas Print 8/13/16
Reporter 202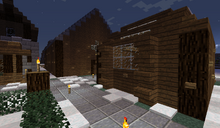 After logging on this morning, a resident of Cirrane came to find wooden buttons on the sides of their home and the surrounding buildings. Colton, another resident of Cirrane, has accused resident Sirr of the deed.
But a witness has testified against Colton that they were present when their own home was defaced with buttons while the witness and Colton were the only ones at the scene. If what the witness says is true, resident Colton is facing charges of framing and vandalism of both public and private property.
This has been the Atlas Print, bringing you the latest updates in Atlas.
Ad blocker interference detected!
Wikia is a free-to-use site that makes money from advertising. We have a modified experience for viewers using ad blockers

Wikia is not accessible if you've made further modifications. Remove the custom ad blocker rule(s) and the page will load as expected.